Icons, symbols and institutions
There are certain icons and institutions which even the British themselves consider as "British." This is just a selection of those things which spring to mind whenever one hears the word "British."


| | |
| --- | --- |
| The BULLDOG symbolises the very essence of Britishness. He is solid, reliable, unshakeably loyal, very individual, VERY nice when you get to know him - and kind of cute in his own funny little way! He also bears a startling resemblance to Winston Churchill, Britain's great wartime leader whose memory is still held in great esteem by the majority of the British. | |
| | |
| --- | --- |
| | The Americans have Uncle Sam, we have JOHN BULL. He is a fictional character, used to personify the British nation, and is always depicted as an elderly gentleman, rather portly in build, wearing full riding kit complete with breeches and boots, and a Union Jack waistcoat. He was created by John Arbuthnot (1667-1735) a Scottish author, scientist, and physician who wrote five satirical pamphlets in 1712 on the politics of the day, using John Bull as the typical Englishman. The character obviously struck a chord and he has persisted ever since : the picture on the left comes from a 1916 British Army recruiting poster. |
| | |
| --- | --- |
| A BRITISH LION is really a member of a Rugby Football team (a very GOOD one, though) - the Lion is the emblem of England. It is actually a "lion passant gardant" - a walking lion, looking out at you full face, and was first used by Rollo, Duke of Normandy (father of William the Conqueror, who added the second lion.) The third was added by Henry II, and Henry VIII added a crown to the lion. In heraldry, the lion stands for "deathless courage" and the lion passant gardant for "resolution and prudence" The Scots also have a lion as their heraldic emblem: theirs is a red lion rampant (standing on its hind legs, looking straight forward.) | |

BRITANNIA is the personification of British nationalism. She is portrayed as a young woman in a neo-classical gown and helmet, seated by the sea ("Britannia Rules the Waves.") She is holding a trident in one hand and a shield, decorated with the Union flag, in the other.
The Romans called their newly-conquered province, just across the sea from Gaul, Britannia, and the coinage of the day featured the image of a woman in armour. This image was not used on coins again until the reign of King Charles II, and Britannia became a popular figure in 1707 when Scotland, Wales and England were finally united to form Great Britain. She was immortalised in 1740 when James Thompson wrote the words of "Rule Britannia" and set it to music by Thomas Arne. It was performed on the London stage where it immediately captured the public imagination.

The song "Rule Britannia" is still sung every year on the last night of the "Proms" - the Promenade Concerts held in the Royal Albert Hall in London - when the whole audience joins in a burst of nationalistic fervour and flag-waving, invariably drowning out the soloist who is supposed to be doing the singing!
Britannia has continued to feature on British coins since her reintroduction, mostly on copper (penny and halfpenny) coins but occasionally on silver, and at present is to be seen on the 50p coin.
The BOWLER HAT conjures up an instant image of Britishness. Originally designed in 1850 by Lock's the hatters for William Coke II, later the Earl of Leicester, it was actually MADE by the hat maker William Bowler. It was first called the "Coke" but soon became known as a "Bowler," partly because of its maker but also because of its bowl-like shape.
The bowler hat became the trademark of several well-known Englishmen : Charlie Chaplin (born in London), Stan Laurel (from Ulverston) and more recently John Steed, the archetypal Gentleman Spy of The Avengers fame (left, played by Patrick McNee). Goldfinger's sidekick Oddjob used a bowler hat to devastating effect, and you will still see bowler hats being worn on the streets of London today as they form part of the unofficial "uniform" of the city gent, always accessorised with a rolled black umbrella.
CRICKET - and I don't mean the commercialised, multicoloured specially-for-TV spectacle that masquerades under that name but the REAL game. There is no "British" national team, the team that competes with the other great cricketing nations of Australia, South Africa, Pakistan, India and the West Indies is England. At a more local level, cricket has county teams, works, club, village and even school teams, and families play their own versions of the game on playing fields and beaches every summer. Cricket is a leisurely game: Test matches (internationals) take up to five days, and three or two-day matches are usual at the higher levels of play. Even a village cricket match may take all day, and on a fine, sunny Sunday, village greens and cricket pitches around the country will see families picnicking on the grass around the boundary whilst watching the match in play.
The British BOBBY is one of our most cherished icons, called after the founder of the modern police force, Sir Robert Peel. The local policemen may also be known as the "Plod" after the delightful policeman character Mr. Plod in Enid Blyton's "Noddy" stories, or as a "copper," from his habit of "copping" (seeing what they are up to and catching) wrongdoers.
Our policemen are not routinely armed and there is considerable public support for it remaining that way; the British have a natural aversion to the everyday use of guns, and still yearn for the days when the local Bobby could dispense summary justice to misbehaving juveniles with a swift clout as soon as he caught them.
TEA is most definitely Britain's national drink, and it is difficult to get a decent cuppa anywhere else in the world! Tea drinking is not just a means of refreshment, it is also a social ritual and any hostess (or host) will put the kettle on immediately after greeting visitors. To make a proper cup of tea, you need a china or earthenware teapot; fill the kettle with freshly-drawn water and bring it to the boil. WARM THE POT by pouring in some of the boiling water, swishing it around then emptying it again. Purists will insist on loose tea but good quality teabags are acceptable - the traditional "one for each person and one for the pot" will produce rather a strong brew! I prefer mine a bit less violent - about 3 spoons (or bags) between four. Bring the water back to boil and pour it onto the tea immediately. Leave the tea to brew/mash/stand - it depends on where you live - for about five minutes. Gently give it a stir and leave for another minute for the tea leaves to settle again, then pour it out - but put the milk in the cup first! If you use loose tea, you might want to use a tea-strainer ( a sort of mini-sieve designed for just that purpose.) Add sugar to taste, and drink and enjoy!
There is a delightful website all about tea drinking called R.S.V.P. - it's well worth a visit (but don't forget to come back here!)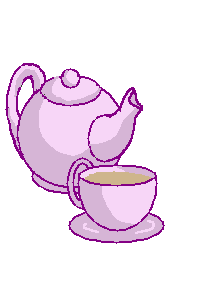 A FULL ENGLISH BREAKFAST (usually abbreviated to simply "Full English") is an excellent way to start the day, if you have time to cook one (or someone to cook it for you!) and time to sit down and eat it! A REAL Full English consists of several courses and in country houses used to be set out as a hot buffet for guests to help themselves as and when they got up. Nowadays the only time most people eat a FULL English breakfast is on Sundays and on holiday when they can spend a more leisurely morning - such a meal needs time to "go down" and digest. Either kippers or porridge will start the meal - kippers are smoked herring, and will be served poached or grilled, with brown bread and butter; porridge (oatmeal) can be eaten with brown sugar and cream or milk (although Scotsmen will tell you that only salt is correct.) After this "starter" comes the main course : bacon, eggs (fried or scrambled), sausages, black pudding if you're in the north, grilled or fried tomatoes, maybe kidneys and possibly a slice or two of fried bread. In the past, kedgeree (a sort of risotto with rice, smoked fish and hard-boiled eggs, a relic of the British Raj) would also have been offered, but this is unusual nowadays. Regional variations occur - in south Wales you are likely to be offered Laver Bread, a concoction of oatmeal and seaweed which tastes better than it sounds. Finally, if you have any room left, toast and marmalade will finish off the meal, all washed down with copious quantities of tea.



ENGLISH PUBS pop up in all sorts of places, but if they're not in England - they're not English pubs! There is an alarming trend towards "modernisation" and "theme pubs" but there is also a growing backlash against chrome-and-formica and loud music. You can find good pubs in both town and country, although city pubs have by and large succumbed to the need to attract a younger clientele.
A good pub will have "atmosphere" - a cheerful and friendly landlord (or landlady), helpful and chatty bar staff - if they are also decorative then that is a bonus - and "locals" willing to gossip with any visitor. There is a popular fallacy that we drink our beer warm : this is decidedly not so : a good beer (that is, made from malted barley and flavoured with real hops, not chemical stuff) is served at cellar (storage) temperature - which given the climate, is decidedly NOT warm! Continental lagers are served chilled, but then no true Englishman would consider lager as real beer.







The ROBIN is everyone's favourite bird : when a national newspaper conducted a poll to decide Britain's national bird (we didn't have one before) millions voted, and the robin won by a landslide. It is not the same species as the American Robin (which is closely related to our blackbird) but shares the same distinctive red breast. Indeed, the American Robin was probably given its name by the first settlers because of its similar colouring.
The robin is immediately recognisable - no other British bird has the same red breast, which is present in both sexes, and it is the one bird everyone can identify even if they can name no other bird! Robins are so familiar because they are so tame : this seems a characteristic of British robins, which elsewhere in their range are shy woodland birds. Here, they will approach people closely and will go so far as to perch on a gardener's spade in order to be first to the worms being turned up. It's as if they KNOW that everyone loves them!


BACK TO TOP

---
HOME PAGE & WEBRINGS | CALENDAR | SITE MAP | RECIPES | CLIPART | CRAFT IDEAS